TELEHOUSE America Welcomes New President and CEO, Mr. Masaaki Nakanishi
October 2011
On October 1st, 2011 TELEHOUSE America announced the appointment of a new President and CEO, Mr. Masaaki Nakanishi.
Mr. Nakanishi joined KDDI Corporation in 1975 and worked his way up through KDDI Corporation and subsidiary companies before taking the helm at TELEHOUSE America and KDDI America. Mr. Nakanishi's experience includes leading KDDI's international business unit and during the early 2000's he served as Managing Director of KDDI Europe Ltd in London, England. He is also a Non-Independent Non-Executive Director of DMX Technologies, a provider of Managed IT Services.
Of his new position overseeing all TELEHOUSE America operations, Mr. Nakanishi says:
'My vision for TELEHOUSE America is to provide expanded but uniform, market leading, global solutions for colocation, connectivity and scalable IT support services by fully utilizing, and continuing to build on, our existing global manpower capabilities, telecommunications, and total data center solutions.'
The TELEHOUSE America team is delighted to welcome our new CEO. Mr. Nakanishi's global vision, experience in global telecommunications and understanding of the global market further empowers us to deliver the customized, layered solutions our clients seek, and inspires us to enhance the quality of service TELEHOUSE provides customers with daily. We look forward to many successful years under Mr. Nakanishi's proven guidance.
To read more about this exciting news please click here to view our press release.



Catch Up: Breakfast at Chelsea (October 26th 2011)
October 2011
On October 26, TELEHOUSE America hosted a Breakfast Seminar at its Chelsea data center to teach attendees the importance of IT and Legal working together to prevent an e-Discovery crisis. Featured speakers included Anthony Rainone, a civil litigator from BrachEichler LLC and Greg Cancilla, Director of Forensics at RVM.
If your company were to face a lawsuit, what would you do? Do you know your duty to preserve evidence and would you be able to handle the demands of e-Discovery? According to a recent survey, nearly half of respondents do not have an information retention plan in place.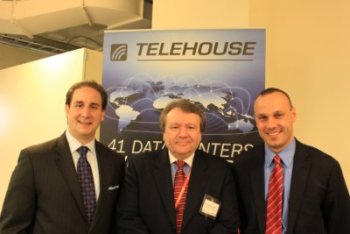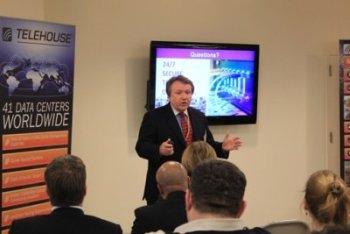 TELEHOUSE America to Attend 7th Annual Data Centre and Cloud Strategics Conference and Expo Series in Hong Kong (November 18th, 2011)
October 2011
On November 18th, 2011 senior level individuals from the data center industry will gather at the Intercontinental Hong Kong Hotel for a one-day conference focusing on the challenges faced by banking, financial services, and insurance companies when it comes to maintaining high performance and mission critical IT platforms.
Sales and Marketing Director of TELEHOUSE America, Fred Cannone, will be present to share information about TELEHOUSE's Hong Kong CCC facility, and to learn more about the future of the data center industry in this part of Asia.
TELEHOUSE is looking forward to being a part of another Data Center Strategics Event. To learn more about the Hong Kong conference and expo series, or for more information on data center strategic events in all parts of the world please click here.
TELEHOUSE Hong Kong Hosts 'The Development of Data Centers in Hong Kong' Round Table Meeting (September 26th, 2011)
October 2011
As you may know, TELEHOUSE recently announced the opening of TELEHOUSE Hong Kong CCC in June 2011. This facility was built directly in response to the growing demand in the Asian market, and it is the first data center to target the expanding cloud-computing industry. TELEHOUSE was thrilled to be a part of the 'The Development of Data Centers in Hong Kong' Round Table Meeting with Mr. Nicholas Brooke, Chairman of the Hong Kong Science and Technology Parks Corporation. The event provided an opportunity for experienced players from the data centre industry, end users, legislators and other interested parties to meet and exchange opinions on the development of Data Centers in Hong Kong.
Attendees gathered at The Hong Kong Club from 8:45 am until 12:00 noon to hear presentations which addressed several dynamic topics including 'The Role of Hong Kong Data Centers in Emerging Liquidity Hubs in Asia' and 'Powering Data Centers in a Swift and Reliable Way'. There was also a Q&A session, which gave guests an opportunity to express their ideas and find out more information. You can download copies of each presentation by clicking here.
The event helped improve the growing partnership between the Hong Kong government and the IT industry, while also bringing together a diverse community of data center operators, to see more photos from the event, click here. To learn more about TELEHOUSE's newest site in Hong Kong, email sales@telehouse.com or read TELEHOUSE's Hong Kong CCC press release by clicking here.
Industry News Roundup
October 11, 2011
Fierce Telecom
October 13, 2011
Telecom Ramblings
October 14, 2011
Telecom Ramblings
October 20, 2011
Fierce Telecom
October 20, 2011
Telecom Ramblings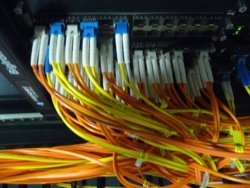 TELEHOUSE America to be an Exhibitor at Streaming Media West!: Nov 8-9
October 2011
Join TELEHOUSE America at Streaming Media West, taking place November 8-9, 2011 in Los Angeles. Streaming Media West is a leading event encompassing the full online video ecosystem including everything from content creation and management, to monetization and distribution.
Content owners, viral video creators, online marketers, enterprise corporations, broadcast professionals, ad agencies, educators, and others all come to Streaming Media West to see and hear the latest online video technology but, more importantly, to discuss the business models that are coming of age.
Located at booth #74, TELEHOUSE will showcase its secure data centers, networking and managed services solutions. As an exclusive offer, we'd like to provide you with a discounted event pass. Please register via this link and use the code: VIPTEH https://secure.infotoday.com/forms/default.aspx?form=smw2011
To learn more about this event visit: http://www.streamingmedia.com/Conferences/West2011/. We look forward to seeing you there!

KDDI Enhances Global Internet Business through Investment in CDNetworks
October 2011
On October 12, 2011 TELEHOUSE's highly esteemed parent company, KDDI Corp., announced their purchase of approximately 85.5% of common shares in CDNetworks, which is approximately $167 million US dollars. KDDI will add CDNetworks to the constantly growing KDDI family, and use their services to enhance KDDI's global internet business.
CDNetworks is a global Contents Delivery Network (CDN) service provider headquartered in Seoul. They operate their CDN business in 31 countries with focus on Korea, Japan, China, the United States and Europe. They are also extremely competitive in Asia, where Internet related business continues to rapidly grow.
KDDI plans on combining their own quality internet network with CDN services to give internet service and content delivery providers the ultimate solution. KDDI will also add CDN services to their well-known mobile platform.
To read more about this exciting news click here. To learn more about KDDI Corp and their 2012 plans visit their site: http://www.kddi.com/english/.

Take a Closer Look at the Modular Data Center Solutions
October 2011
Throughout October the TELEHOUSE America team has been exploring live, operational modular data center solutions. TELEHOUSE's Modular Datacenter (MDC) solution goes beyond the containerized platforms that are famous within the modular space. TELEHOUSE's Modular Datacenter is completely customizable and sized to the customer's needs.
By exploring a fully functioning 24/7 Modular Datacenter (MDC) that is built and operational within 3 months, it is easy to see why this concept is the future of both collocation and self built data centers. Creating a traditional data center based solely on today's business needs will only be challenging to deal with in the future. Forget building a data center and hoping to grow into it, the Modular Datacenter solution allows you to expand, move, or downsize, in parallel with your company's resource management and growth demands. By using these 6 inch thick moveable wall panels, meeting all building codes, that are sealed to be airtight, watertight, bulletproof and weatherproof provides the ultimate flexibility for expanding or relocating anywhere on the globe.
Data Centers Help Store 'Big Data'
October 2011
What's all the talk about 'big data?' Basically, it refers to the massive size of datasets that, due to the size, become a challenge to work with using typical 'on-hand' database management tools. Big data requires a place to live; and actual storage devices to house it. In a recent article by Data Center Knowledge, Rich Miller points out his key takeaway from the O'Reilly Strata Summit last month is the generation of our society's 'ever-growing ocean of data'. And in response to 'big data', developers are busily working on new applications in order to extract value from it all.
The surge of big data crosses all spectrums - from finance to retail; from government to entertainment, from journalism to non-profits.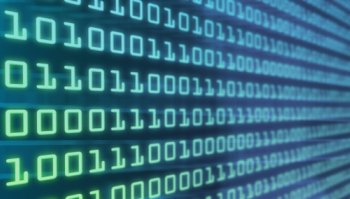 Protecting Data Centers from Lightning
October 2011
Natural disasters such as hurricanes, tornados and earthquakes, can wreak havoc on a business' data communications. Most individuals wouldn't normally think of a regular thunderstorm as a big threat. However, this is often not the case. Lightning, even without a big catostrophic storm can actually inflict quite a bit of damage - causing unforeseen utility outages - even taking out well known companies such as Amazon and Microsoft.
Data centers are designed to withstand power blips and outages with their back up UPS systems and generators. Recently though, two large cloud computing hubs in Dublin, Ireland were severely impacted due to lightning striking a transformer. An explosion ensued and the fire wiped out the generator systems causing a complete power outage. Best efforts were made to restore systems quickly, but some of the power grids were out for up to 48 hours.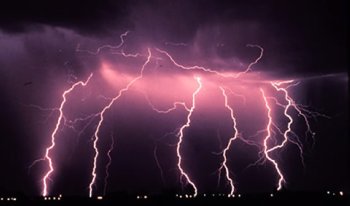 Meet the TELEHOUSE Team!
October 2011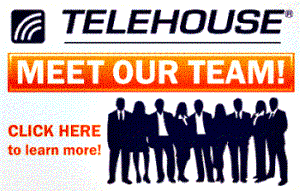 For over 20 years the TELEHOUSE staff has provided exceptional service and personal attention to each and every one of their customers. Often times, our clients and partners never get to meet all of the individuals who work hard to make sure the TELEHOUSE name is associated with excellence. In effort to help our readers become even more involved in the TELEHOUSE community we have decided to interview members of our team each month and allow them to tell you a little bit about who they are and why they love working here.
Contact TELEHOUSE!
Call:
+1-718-355-2500
E-mail:
Website: