NANOG 73, Denver, CO June 25-27, 2018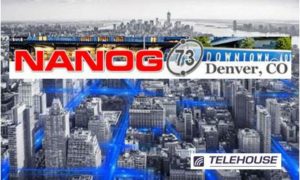 Telehouse America / NYIIX will be attending NANOG 73 in Denver, CO for June 25-27, 2018.   The North American Network Operator's Group (NANOG) is the professional association for Internet Engineering and architecture. To schedule a meeting, please send Email to us at sales@telehosue.com.
NANOG 73 will offer a great opportunity to network with colleagues, freshen-up skills, learn advanced networking techniques, and discover new network applications.