Corporate Social Responsibility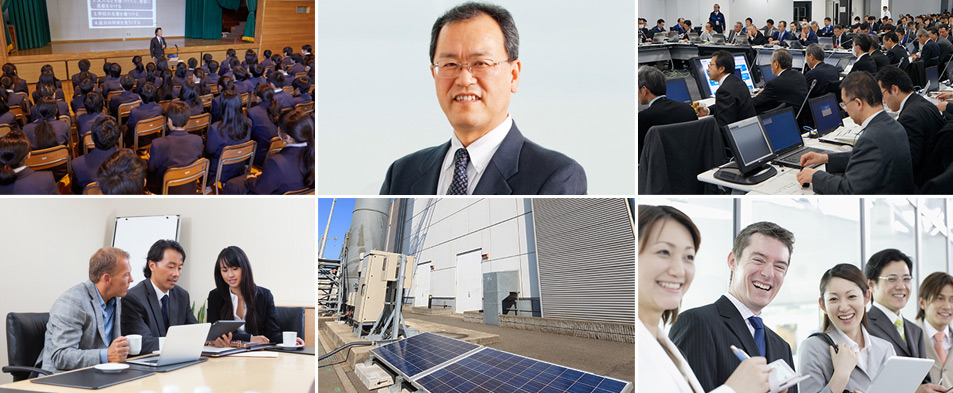 We are Part of the Social Infrastructure
Telehouse as a KDDI group member recognizes its social responsibility as a telecommunications company that provides part of the social infrastructure. Accordingly, we contribute to the realization of a bountiful communications-oriented society through the provision of stable communications services and by addressing the issues that society faces.
"As a company that provides social infrastructure, our societal mission is to deliver stable telecommunications services regardless of conditions."
Takashi Tanaka, President KDDI Corporation
Contributing to a Prosperous Society
Telehouse, as a KDDI Group Company, is part of the KDDI Corporate Social Responsibility (CSR) strategy that enables the development of a prosperous communications-oriented society. The KDDI Group helps consumers and businesses around the globe to access information systems through its global infrastructure of data centers, integrated networks and cloud technology. Within its CSR strategy, a strong focus lies on the development and improvement of ICT infrastructures in emerging markets as ICT plays an integral role within every field of a country's economy and welfare including medicine, health care, education, and government. KDDI contributes to the social, economic, and cultural progress of numerous regions through its corporate initiatives.
Defining Material Issues
Of the wide range of issues that KDDI faces in the course of its business activities, we have identified a number of topics of significant social concern as "four material issues for CSR" that we particularly need to focus our efforts on to grow sustainably and with society at large. We also established the KDDI CSR & Environment Committee to formulate initiatives for resolving these problems and report on these activities.
The KDDI Foundation
In 2009, the KDDI Foundation was created to consolidate the resources of the International Communications Foundation (ICF) and KDDI Engineering and Consulting, Inc. (KEC).
Its aim is to contribute to the development of telecommunications in the world, especially in rural and remote areas in developing countries, by providing advanced technologies and know-how in the operation and maintenance of telecommunication services. It offers consulting overseas training services in a wide range of areas related to international telecommunications.
In 2012, KDDI was recognized by the Tokyo Stock Exchange as an "ESG stock"-pointing to corporate excellence in environmental, social, and governance (ESG) endeavours. KDDI was selected for inclusion as an "ESG stock" for enriching child / elderly-focused services, enhancing communications quality, and reducing the energy use of telecommunication facilities and data centers.
KDDI's CSR Projects
Learn about KDDI's CSR Projects around the world in areas such as:
Human resource training in developing countries
telecommunications consulting services
Providing broadband internet to Bangladesh with WiMAX
Investment in Microfinance International Corporation to develop a global open mobile payment platform
School construction and charity concerts in Cambodia
KDDI Open Innovation Fund to support start-up companies
Support the cultivation of young, promising engineers
International Cooperation for R&D on Cyber Attack Forecasting Technology –
See more: 
Learn More About Our Parent Company, KDDI
Click here