How the International Internet Exchange Operates
October 13, 2015
"Information flow is what the Internet is about."
said Vint Cerf, Google Chief Internet Evangelist, AKA "Father of the Internet", and 1 of 2 key TCP/IP developers who created the Internet.
"Information sharing is power. If you don't share your ideas, smart people can't do anything about them, and you'll remain anonymous and powerless."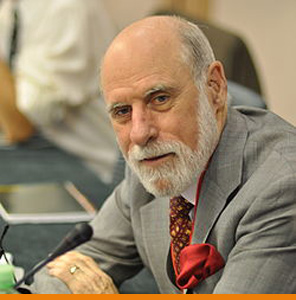 In an interview by Rich Karlgaard at Forbes Magazine, Cerf defined the 3 phases in the development of the Internet:
Phase 1: Packet switching
Phase 2: A packet-switched network that shares data across heterogeneous machines
Phase 3: The connection of networks to other networks
This forms the basis of the Internet we use today.
They are, in essence, the 3-legged stool to which Peering Exchanges such as NYIIX adds a fourth—speed and quality enhancement. This infrastructure "shortcut" is also known as the International Internet Peering Exchange, or IIX.
10 hops vs. 1 hop – you choose. Eliminate latency and your first step could also be your endpoint destination. That's the marvel of Peering.
This article will discuss the architecture over which information travels from its origin to destination, and how Peering takes advantage of this framework to save money, build redundancy and enhance quality.
Architecture
The backbone of the Internet is the ISP provider, the public utility of the digital world. Much like the telephone companies of old, it sets up and maintains the global infrastructure over which our data packets travel.
A Network of Networks
To put this in context, the Internet is made up of a physical infrastructure that separates into tiers.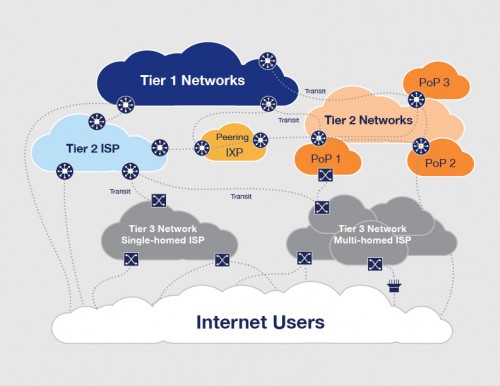 Tier 1 is an Internet Service Provider (ISP) that has direct access to an entire Internet Region without purchasing IP transit, and is considered part of the Internet backbone itself. They have the fastest speeds and highest quality bandwidth. In the US, it includes providers like AT&T, Verizon and Sprint. As one writer stated: they own the pipes.
That said, "there is no organization that is the ultimate source for the Internet. The Internet is built by every carrier, ISP provider and network operator that offers Internet access—hence it is referred to as a Network of Networks."
Packets travel along those Tier 1 "pipes" reaching an occasional node. Those nodes are exchange points (IXPs).
Tier 2 is an ISP entity that Peers with other networks, as well as purchasing from a Tier 1 provider for transit. They typically pay the Tier 1 titans and/or peer to use their networks and resell the transit to business customers, usually within a specific Internet Region.
Tier 3 ISPs purchase from Tier 1 providers who focus on the retail market. Prices are lower, but speed, scalability and performance are lower.

Internet Exchange Points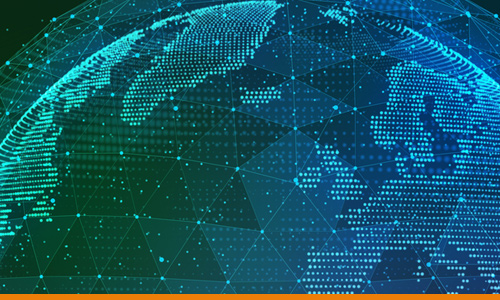 "Internet Exchanges (IX) offer a neutral local network where any carrier, ISP or network operator can connect and exchange traffic. The IX uses switching equipment to build the local network. Placing equipment in existing carrier-neutral Data Centers – sometimes in more than one location for redundancy purposes, the IX uses dark fiber to interconnect those locations."
By joining an Internet Exchange, your company can eliminate much of its need for the use of Tier I "pipes" by directly connecting with partners and eliminating intermediary hops. Internet Exchange Points map
This process of direct connection is called Peering.
Exchange members join with very little upfront cost. They work with the exchange to set up a port and router based upon their specific bandwidth needs. They may size a port to accommodate traffic of other companies they expect to partner with, such as Amazon or Netflix.
Other than the initial setup, the exchange focuses on memberships and maintains infrastructure. Peering relationships are entirely up to the members themselves.

Defining Peering and Transit
Peering: Internet access on a cost-neutral basis
Internet Transit: The service of allowing network traffic to cross or "transit" a computer network.
The 2 Types of Peering
Public Peering takes place between the members of a publicly known list within an exchange. The NYIIX is data center neutral. That means members do NOT need to colocate or rent server space at Telehouse to join the exchange.
Private Peering takes place between members that collocate or rent server space at the same data center. They enjoy the added benefit of insulation behind the data center firewall and the other security features of that data center.
Public peering is becoming increasingly popular.
Edge Routers
The edge router is literally all anyone outside of a secure network sees. What's behind the edge router remains hidden from view and private to that company.
With network security more critical than ever in our current landscape, some companies prefer private partnerships. The Finance, Healthcare and Education sectors are particularly sensitive and overburdened with strict security compliance regulations. Private Peering is definitely a great choice in these instances, but talk to the team at your exchange.
International Exchanges
The final advantage to Peering is the reach that your Peering Partners have. Global companies can benefit others expanding into new markets. While a partner may not directly connect you to another international company of your choosing, it can get you into the digital neighborhood. This reduction in latency makes connectivity faster for visitors on your site.
That's the architectural digest of how Peering leverages connections as it saves money, adds redundancy and improves signal quality.
Changes in connectivity and how data is managed are still in their early days. What things will look like in 10 years is anyone's guess.
More quotes from Vint Cerf:
"There was no one "Ah-ha!" moment. Not in the sense that many people want to hear. They see the Internet now and think, well, thirty-six years ago someone imagined what it would look like in 2008, and that is what drove the process. It wasn't like that at all."
"When I first joined Google in October of 2005, I was warned that I shouldn't be offended if people were doing their e-mails while a meeting was going on."
"The closer you look at something, the more complex it seems to be."
"I'd like to know what the Internet is going to look like in 2050. Thinking about it makes me wish I were 8 years old."
We all hope the information will continue to flow.