Michelle Reid of Telehouse Europe honoured by the London Internet Exchange
November 27, 2017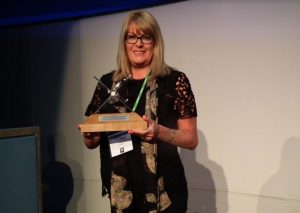 London, UK – 27th November 2017 – Telehouse, a leading global provider of data centre services, today announced that Michelle Reid, Telehouse Europe's Senior Business Advisor has been honoured with the London Internet Exchange's (LINX) Conspicuous Contribution Award. The award was presented to Michelle at the 99th LINX member meeting on 20th November 2017.
The LINX Conspicuous Contribution Award is a prize presented to an individual who has shown steadfast and continuous support in the development and growth of LINX. LINX CEO, John Souter, said; "It is to Michelle's credit that she really understood the role that LINX plays generally, and how having LINX in their buildings plays such an important role in establishing the Telehouse Docklands campus into one of the most connected places on the planet. We are grateful for her faithful support, and think it appropriate to recognise her in this way."
LINX launched its network services at Telehouse Europe in 1994 when the London Exchange was first formed, just a few years after Telehouse launched Europe's first purpose-built carrier neutral colocation facility, Telehouse North in 1990. Michelle has worked closely with LINX for more than 20 years, to facilitate the establishment and growth of LINX's private interconnection in Telehouse. During this time, the Telehouse London Docklands campus has expanded with the addition of 3 data centres, including the new Telehouse North Two data centre which opened last year.
Michelle Reid from Telehouse Europe said; "I am honoured to have received this award from LINX and to have played a role in supporting LINX over the years. Telehouse's long-standing relationship with LINX has contributed towards the development of the highly connected data centre ecosystem at Telehouse Docklands. This in turn provides LINX members and our customers with a low latency and resilient environment to support the high volumes of internet traffic flowing through the campus. "
### Ends ###
About Telehouse
Telehouse is the pioneering data centre colocation provider established in 1989.  It is an owner operator of global data centres, connectivity and managed ICT solutions to over 3000 corporations around the world. Telehouse is the data centre subsidiary of Japanese corporation KDDI, a leading Japanese mobile and fixed-line telecommunications and ICT solution provider with 106 offices in 28 countries around the world and a Global Fortune company.
For further Telehouse press information:  marketing@uk.telehouse.net
About The London Internet Exchange (LINX)
LINX is one of the largest Internet exchanges in the world, connecting over 800 networks from over 75 countries around the globe. As a mutual membership organisation, whose members make up a large part of the global internet, the London based IXP is in a unique position to make a difference for all as it's mantra 'Working for the Good of the Internet' indicates. LINX maintain a heavy London presence with over 10 PoPs across the capital along with regional exchanges in Wales, Manchester and Scotland. LINX also operates an Internet exchange in the Ashburn metro area in the US just outside Washington DC.