Understanding The Role of Artificial Intelligence in The Data Center Industry
April 25, 2018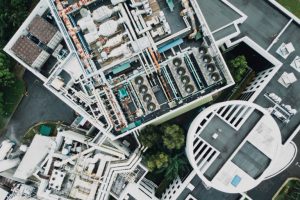 The amount of global data being stored, processed and managed continues to grow exponentially each day. In turn, artificial intelligence is playing a pivotal role in helping data center service providers capture, process and analyze this data at a faster and more powerful rate than ever before. From automated monitoring systems to advanced energy savings, here's how artificial intelligence is improving the operations and efficiency of global data centers.
What Artificial Intelligence Means for Data Center Service Providers
Artificial intelligence isn't a new concept, and tools like face detection and voice recognition already play a major role in our daily lives. Strava, Inc. Staff Engineer Drew Robb adds that object identification, classification, and other forms of geographic and identity detection are leading AI uses in the enterprise market.
All of these applications place an increased strain on data centers because they require increased data storage and processing in order to run. Managing this immense increase in data requires that the data center industry scale, adapt, and acquire more computing power. Artificial intelligence enables the data center service provider to meet such demands in a variety of ways, including operational automation, elastic computing power and predictive maintenance.
Improving Data Center Efficiency
Increased data processing requires that data centers keep hardware cool. With more data to process and hardware working harder, however, this drives up energy costs and increases the overall resource footprint of data centers.
Fortunately, machine learning is playing a vital role in helping companies understand their data center energy consumption. As explained in Datacenter Dynamics, artificial intelligence is being used to analyze temperature set points, evaluate cooling equipment and test flow rates. The use of AI-powered smart sensors can receive data from numerous sources and relay that information as environmental, electrical and mechanical insights. In addition to detecting sources of energy inefficiencies, machine learning can also be automated to make informed decisions that reduce data center energy consumption and cut costs.
Software solutions business manager Stefano D'Agostino adds that, "innovative startups are using intelligent machines with self-learning algorithms to optimize the allocation of the IT load itself so that optimal cooling can be achieved." The benefits of such technology is already being realized, and statistics from The Data Center Science Center show that advancements in UPS efficiency and cooling energy losses have helped ordinary data centers cut physical infrastructure costs by 80% over the last decade.
This shows that, even though artificial intelligence technology is partly responsible for an increase in data center processing, it can also be used to mitigate its own increases in energy consumption.
Strengthening Data Center Security
In addition to improving energy efficiency, AI can also improve security of a data center. New York businesses rely on Telehouse because we're committed to proactively managing customer data and reducing security risks wherever possible. We're also tuned in to the latest advancements in AI security applications, which can screen and analyze data for security threats at a more thorough and rapid rate. AI can also help assess normal and abnormal patterns, detect malware and spam, identify weak areas and strengthen protection from potential threats.
Detecting and Reducing Downtime
Another way that artificial intelligence can influence the modern data center service provider is through improved outage monitoring. In fact, AI monitors have the ability to predict and detect data outages before they even occur. They also have the ability to track and detect server performance, disk utilization, and network congestions.
Today, artificial intelligence offers advanced predictive analytics services that make it easier and more reliable to monitor power levels and potential trouble areas. Predictive analysis from artificial intelligence can also assist a data center in distributing workload more efficiently, which reduces strain on machines and helps the entire center work more efficiently.
This is a far departure from traditional data center troubleshooting, which relied on manual computations and research conducted by staff. Rather than relying on humans to decode and analyze the puzzle of issues impacting the entire IT stack, however, machine learning can spot and predict trouble in the data center instantly. In turn, this enables global data centers to keep up with increased information levels, make informed future predictions and stay ahead of competitors.
Changing Data Center Staffing
Leveraging AI over human-powered monitors reduces staffing shortages in the industry and enables data center providers to allocate qualified staff to other areas.
Specifically, basic tech support will no longer be required and artificial intelligence will document and act upon operational issues without the need of a human being. Data center staffing will shift in response to the automation of routine tasks like help desk support, problem resolution, and resource and service provisioning. Another interesting benefit of AI for data center staffing is that it will automatically capture new events, scenarios and symptoms to create a working knowledge base that informs both internal and external parties of past issues, helping prevent them from repeating in the future.
When customers or partners do have a question and need to speak with a staff member, they can be connected directly to senior-level staff members who can provide a superior support experience. Lastly, data center service provider staff whose jobs are replaced by AI will have opportunities for more job mobility, possibly entering facilities management roles where they support multiple offices and job sites.
Benefits for Global Data Centers and Beyond
Despite the many benefits of artificial intelligence both within the data center and beyond, many people remain skeptical about its potentially negative side effects. Organizations such as the Partnership on AI seek to maintain an open discussion about the fears, benefits and potential of AI. By engaging the public about best practices for using artificial intelligence, they set the stage for how to use this new frontier of technology both for the data center industry and beyond. Such concerns are understandable, but it's also true that AI will maintain a positive force for data center service providers.
References:
Data Center Science Center
Datacenter Dynamics
Stefano D'agostino