TELEHOUSE AMERICA PARTNERS WITH EXTREME NETWORKS TO UPGRADE THE NYIIX CENTILLION PLATFORM
February 20, 2018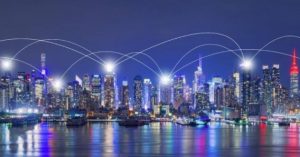 NYIIX Centillion II to Address Rising Market Demand for 100G Ports
NEW YORK – February 19, 2018 – TELEHOUSE America, a KDDI Group company and the global leader for data centers, international internet exchanges and managed IT services, announces that it has partnered with Extreme Networks, Inc. (NASDAQ: EXTR) to upgrade the New York International Internet Exchange (NYIIX) Centillion Platform to Centillion II in order to meet strong market demands for 100G ports.

NYIIX selected Extreme Networks for its superior ability to provide future-proof architecture, carrier-grade reliability, and resources to support its customers.  The Centillion II Platform is 400G-ready and consists of Extreme's SLX routers for both core routers and edge routers, which significantly increase the number of available 100G ports. NYIIX members will be migrated to the upgraded platform in multiple phases beginning in late February.
NYIIX was founded in 1996.  It is one of the largest public peering exchange points on the East Coast of the U.S. with seven locations in the New York metro area, including 85 Tenth Avenue, 7 Teleport Drive, 60 Hudson Street, 111 8th Avenue and 32 Avenue of Americas.  In New Jersey, NYIIX has two locations: 165 Halsey Street in Newark and 2 Emerson Lane in Secaucus.
In line with the overall business growth, the peering traffic through NYIIX has been steadily rising. Reports show the current traffic peaking at over 600 Gigabits per second.
"I am pleased to announce the new Centillion II Platform," says Akio Sugeno, Vice President, Internet Engineering, Operations and Business Development, TELEHOUSE America.  "The current market demands have accelerated our need to upgrade the platform.  Strong demand for 100G ports is the result of our continuing ability to increase NYIIX members along with customer confidence in our service.  Such an accomplishment proves that NYIIX is one of the most important IXPs in the United States."
"We're excited to partner with TELEHOUSE America to provide NYIIX members with cutting-edge solutions capable of meeting their needs," adds Nabil Bukhari, Senior Vice President, Products, Extreme Networks.  "With the new update to the Centillion Platform, NYIIX members will experience higher capacity and more redundant infrastructure, enhancing the overall experience and providing better support for customers."
The TELEHOUSE America / NYIIX team is currently attending NANOG 72 at the Loews Atlanta Hotel at Atlanta, Georgia.  Email sales@telehouse.com to request a meeting with the team during the conference.
For further information about NYIIX, visit www.nyiix.net.
# # #
About TELEHOUSE America
A stable and trusted pioneer of carrier-neutral data center services, TELEHOUSE America provides secure, power-protected environments, where clients house and operate their telecommunications and network resources.  Among the many benefits of collocating with TELEHOUSE America is the ability to connect to NYIIX, our state-of-the-art peering exchanges in New York, Los Angeles and Philadelphia. Additionally, the global availability of 47 TELEHOUSE-branded data centers in 23 cities throughout Asia, Africa, North America and EMEA, delivers continuous, cost-effective operation of network-dependent, IT infrastructure to businesses around the world. Please visit www.telehouse.com, or email at sales@telehouse.com to learn more about the Channel Partner program.  Connect with TELEHOUSE America on Twitter and LinkedIn.
About Extreme Networks, Inc.
Extreme Networks, Inc. (EXTR) delivers software-driven networking solutions that help IT departments everywhere deliver the ultimate business outcome: stronger connections with customers, partners and employees. Wired to wireless, desktop to data center, on-premise or through the cloud, we go to extreme measures for our customers in more than 80 countries, delivering 100% insourced call-in technical support to organizations large and small, including some of the world's leading names in business, hospitality, retail, transportation and logistics, education, government, healthcare and manufacturing. Founded in 1996, Extreme is headquartered in San Jose, California. For more information, visit Extreme's website or call 1-888-257-3000
Extreme Networks and the Extreme Networks logo are either trademarks or registered trademarks of Extreme Networks, Inc. in the United States and/or other countries.  Other trademarks are the property of their respective owners.
Media Contacts:
iMiller Public Relations for TELEHOUSE America
+1 866 307 2510
Racepoint Global for Extreme Networks
+1 617 624 3200