TELEHOUSE AMERICA AND SABEY DATA CENTERS ANNOUNCE STRATEGIC ALLIANCE
February 8, 2018
New Partner Engagement to Support Expansion in Key Markets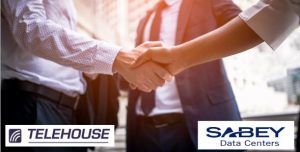 NEW YORK – February 8, 2018 – TELEHOUSE America a KDDI Group company and the global leader for data centers, international internet exchanges and managed IT services, today announces its partner alliance with Sabey Data Centers, a Seattle-based  company and one of the  largest privately-owned multi-tenant data center developers and operators in the world.  The strategic alliance allows both companies to extend their data center footprints and fortify their respective connectivity ecosystems.
"TELEHOUSE America and Sabey's complementary offerings and business models provide a comprehensive data center solution to varying customer requirements," says Sandra de Novellis, Head of Partner Alliances at TELEHOUSE America.  "TELEHOUSE America offers primarily retail colocation space, serving customers in the New York and Los Angeles markets; globally, we also operate 47 data centers throughout EMEA and APAC.  Sabey's wholesale offerings extend our solutions portfolio, accommodating growing demand for multi-megawatt data center space in markets such as Ashburn, Seattle and New York."
TELEHOUSE America has invested over $10MM in capital expenditures and improvements at its New York Teleport data center in the last 24 months, including enhancing and expanding power and cooling systems as well as upgrading security and disaster recovery capabilities.  Additionally, the New York International Internet Exchange (NYIIX), owned and operated by TELEHOUSE America, is accessible from five New York metro locations and enables access to multiple cloud providers, including Amazon Web Services (AWS), Microsoft Azure, and Google Platform.
"We are excited to partner with TELEHOUSE America, extending to our customers access to a global footprint in key hubs such as Frankfurt, London and Hong Kong," says Daniel Meltzer, Vice President of Sales and Leasing at Sabey Data Centers.
# # #
About Sabey Data Centers
With a portfolio of more than three million square feet of mission critical space, Sabey Data Center Properties is one of the most experienced and largest privately owned multi-tenant data center owner/developer/operators in the United States. Sabey specializes in scalable, custom-built solutions including data center-ready shell space and fully turnkey data centers managed by Sabey's award-winning critical environment staff. Consistently recognized for its reputation for operational excellence through its world-class data centers and sustained uptime, Sabey is proud to provide data center services to many of the world's top financial, technology and healthcare companies. www.sabey.com
About TELEHOUSE America
A stable and trusted pioneer of carrier-neutral data center services, TELEHOUSE America provides secure, power-protected environments, where clients house and operate their telecommunications and network resources. Among the many benefits of colocating with TELEHOUSE America is the ability to connect to NYIIX, our state-of-the-art peering exchanges in New York, Los Angeles and Philadelphia. Additionally, the global availability of 47 TELEHOUSE-branded data centers in 23 cities throughout Asia, Africa, North America and EMEA, delivers continuous, cost-effective operation of network-dependent, IT infrastructure to businesses around the world. Please visit www.telehouse.com, or email at sales@telehouse.com to Connect with TELEHOUSE America on Twitter and LinkedIn.
Media Contacts:
iMiller Public Relations for TELEHOUSE America
+1 866 307 2510
Richard Edmonds
LAK Public Relations, Inc. for Sabey Data Centers
+1 212 575 4545