The Demand for Colocation in Greater New York
December 1, 2012
There is no doubt that New York City is one of the most desirable business cities in the entire world, and as a result there is no surprise that it is such a hot spot for technology, including colocation and other major data center services. Today, there are more than 40 wholesale and retail colocation providers residing in the NYC metropolitan area. Heralded as the commercial capital of the US, the demand for NY City data center space continues to soar for both US and international companies.
NY City's most famous data center connectivity sites are:
111 8th Avenue
395 Hudson Street
60 Hudson Street
32 Avenue of the Americas
25 Broadway
75 Broad Street
33 Whitehall Street
85 and 10th Avenue in Chelsea.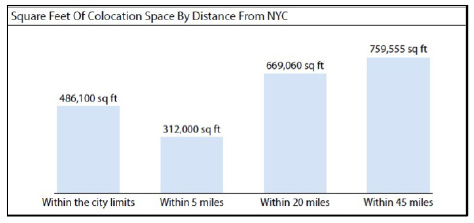 Forrester Research projects that there is an excess of 2 million square feet of leasable data center space in the NYC metro region.  (See 2009 chart below.) Despite this, much of the space is already at full capacity, leading many businesses and firms to seek out alternate options within the region, such as just over the border in New Jersey, where resources are more abundant and costs are lower. Popular cities in New Jersey emerging as data center hubs are Weehawken (about three miles from NYC), Secaucus (about six miles from NYC), and Newark (about13 miles from NYC).
Even though NYC is one of most expensive and constrained areas for space and power in the US, the benefits of colocating in or around the city are considerable.
Location
Companies that are headquartered in New York City (NYC) still strongly prefer to colocate their primary or secondary data center within the same city. Close proximity is key for many reasons:
Peering: NYC serves as a major network peering point for domestic and global, especially European, connections.  
Natural Disasters Unlikely: NYC has a very low profile for natural disasters such as hurricanes, earthquakes and floods.
Diverse, Rich Network: NYC is most notable for telecommunication density with its rich and diverse network connections and dark fiber availability.
Financial Exchanges: NY City is home to the International Securities Exchange and Wall Street consisting of the NY Stock Exchange, and the many financial institutions conducting various local and international trading operations. So close proximity to these, for low latency purposes, is a requirement for many colocating companies in NY City. Unlike other cities, NYC has extensive dark fiber to key corporate addresses and other data centers, as well as fiber networks specific to the financial markets.
TELEHOUSE America is one of NYC's largest colocation providers with facilities at 25 Broadway and 85 10th Avenue right within the city; and its flagship facility at 7 Teleport Drive in Staten Island.
Learn more by visiting http://www.telehouse.com. You can also contact TELEHOUSE at 718-355-2500 or sales@telehouse.com.