The Impact of Managed IT Services for Colocation Customers
November 28, 2012
Data centers play an integral role for the commercial enterprise. Whether outsourced or in-house, data center facilities accommodate computing systems, storage systems, telecommunications, and components that are necessary to keep a company's business processes, records, website(s) and communication outlets up and running securely and continually.
Aside from standard data center colocation services, more and more companies and entrepreneurs are utilizing Managed IT services in order to save time, decrease costs, and help increase a company overall revenue. As reliance on IT grows within a company, the resources in which to support an increasingly multifaceted IT environment may not. In fact, many small to medium sized businesses lack the required IT resources, rapidly becoming overwhelmed with the daily responsibilities of keeping the IT infrastructure that the business depends on up and running smoothly.
Managed IT Services in Data Centers
Managed services refer to the assistances provided by, in this case, a data center provider, when it comes to specific IT operations for a business. The managed services provider takes on the role of monitoring, managing, and/or problem resolution for various IT systems and functions on a company's behalf. More and more businesses are choosing to go the managed services route when colocating at a data center. After all, doing so allows the company more time to concentrate on running their business, and less time on worrying about routine daily management or IT related interruptions or problems.
According to a 2009 report by Insight Research, the total US managed services market will grow from $30 billion in 2008 to $43 billion in 2013, at a CAGR of 7.8 percent.[1]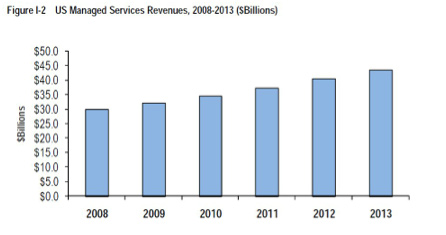 Managed services provide a range of IT assistance to a company, including monitoring and alerts, security, patch management, data backup and recovery, and problem resolution just to name a few.
Colocation providers who offer managed services will work with companies to perform initial assessments of their current IT environments and management requirements in order to best decide what services and service levels they require. The colocation provider essentially works as an intelligent, reliable extension of a company's IT department taking care of routine IT infrastructure monitoring and management on a 24/7 basis, and subsequently allowing the company's IT staff to focus on bigger projects.
Managed IT services with a colocation provider also differ in the fact that they do not require a company to surrender complete control of its IT assets; instead the company decides what areas it wants the colocation provider to be in charge of, and the areas it prefers to handle on its own. All of this is specified in a Statement of Work (SOW) with a corresponding Service Level Agreement (SLA), offered by the colocation provider. Having this kind of control is very appealing to companies in that it allows them to retain full visibility into the process and management of its critical systems. In terms of budget, managed services also allow a company increased expense predictability as opposed to an ad-hoc consultant's hourly billing model.
In summary, there are several benefits for a company that utilizes managed IT services in a colocation/datacenter facility. These include:Â 
Cost Savings
Companies that lack a fully trained IT team's resources will save considerable costs in outsourcing, or partly utilizing the Managed IT services available. Lack of specific IT knowledge, late fixes, routine daily maintenance, any computer downtime, and IT infrastructure or power issues will cost the company more money in the long run than outsourcing costs.
Budget Predictability
Managed IT Services typically offer a choice of service levels that may be priced on a per-month or per-device basis depending on the types of SLAs offered by the colocation provider. This subscription model allows a company increased predictability in expenses as opposed to the as-needed time and billing models used by IT consultants.
Managed Services Providers Assume Full Responsibility, but Company Owners Retain Complete Control
As earlier mentioned, although Managed IT Services are outsourced, a company does not surrender complete control of its IT infrastructure. The company is allowed to decide which aspects of its network the service provider will take care of, and what it prefers to handle. The company is also kept well informed of everything that happens in the process and management of its systems in the colocation facility.
Managed Services Provide 24/7 IT Support
With Managed Services, a company is provided support at all times, and there is either virtually no downtime involved or there is an agreed upon timeframe for system restoration and recovery.
Knowing IT is in Good Hands Provides Peace of Mind
A company that knows their IT system are in the hands of experts, is well assured that the proper professionals are there to do routine maintenance of all its computer hardware and software. The company is also satisfied knowing that if any IT problems are encountered experts are there, on standby, to fix them immediately.
TELEHOUSE America's Managed IT Services provide customers with an all-in-one managed and professional services solution unlike any offering available from other MSPs in the market today. Learn more by visiting http://www.telehouse.com.
---
[1] INSIGHT RESEARCH CORPORATION: MANAGED SERVICES IN AN IP WORLD: NEW OPPORTUNITIES FOR WIRELESS AND WIRED NETWORKS 2009-2014