3 Reasons Why You Should Adopt Hybrid Cloud Strategies
May 10, 2018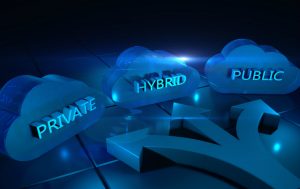 The public cloud was once hailed as the premier option for unlimited, accessible data storage. However, on-premise private cloud solutions still offer better security, speed and control – especially when managing private data. Find out why hybrid cloud strategies are the best way for companies to enjoy the benefits of both private and public cloud storage – and how colocation service providers support such needs.
Workflows and Partnerships
Colocation facilities can support the collaboration benefits of a hybrid cloud strategy in multiple ways. Foremost, tenants in a colocation service provider can securely access one another's applications and data upon mutual request. This creates a safe space in which to collaborate, expanding each businesses capabilities in a secure way that wouldn't otherwise be achievable.
Another benefit of hybrid cloud models is that they offer decreased latency, which is the length of delay between a service and a request. Latency is often improved when cloud servers are geographically closer to the request source, as the request has a shorter distance to travel. Since a colocation service provider allows companies to store their private cloud in a nearby location, this can help increase latency when the public cloud isn't as fast. In turn, this helps increase workflows by speeding up requests.
Security, Control, and Colocation Service Provider
Today's businesses are seeking increased flexibility in data management without having to sacrifice high-stakes security. This is especially true for the healthcare, finance and retail industries, which often have certain compliance regulations regarding how and where data can be stored.
Although these companies can't store such data on the public cloud, they often still need access to applications and tools that are available only on the public cloud. Data center colocation providers are a great solution to these security and accessibility needs because they keep private patient and customer information secure while meeting strict requirements. At the same time, the hybrid model still allows these companies the flexibility to run public applications.
Costs
Companies who opt for the benefits of a hybrid cloud have to choose between working with colocation service providers and building their own private data center. The latter choice consumes significantly more time and resources, which is why so many companies are choosing colocation hosts instead. In fact, a study by Forrester estimated that it costs at least $2 million to build a private data center – not including the costs to maintain it.
Using a colocation data center offers significant savings in hosting and maintenance costs. On-premise data centers have a number of daily maintenance requirements, including energy-intensive cooling and power conditioning services. These on-premise spaces also require reliable security, bandwidth, and backup management, all of which require a significant amount of energy, time and resources. Companies who want to avoid these excess resources expenditures can turn to a colocation data center. Data center colocation providers manage these maintenance costs and make it easier for businesses to scale and expand their services without worrying about tedious tasks.
Do you have questions about the benefits of colocation service providers for hybrid cloud strategies? Let us know in the comments below!