Google Cloud Platform Next Conference: Creativity and a Chromebook
June 25, 2015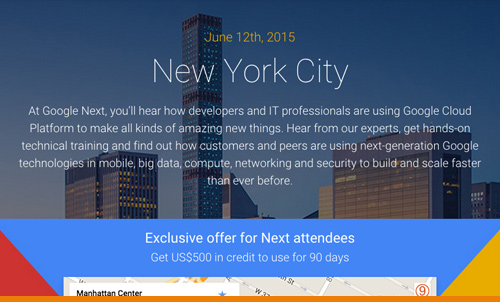 Fresh breezy summer mornings always fool me into over dressing, but not this time! Shorts and short sleeves were more than enough for Google's "Next" conference that was held at the Manhattan Center.
Google's Cloud Platform: Instruments in an Orchestra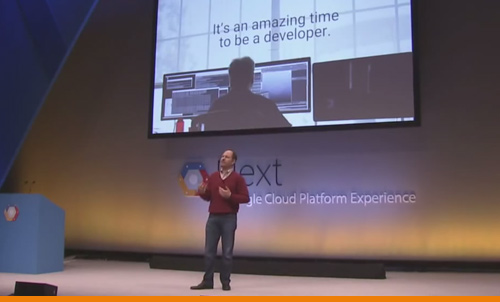 The event focused on the Google Cloud Platform (GCP [jisipi] for short). It was the first of a series of 5 events that were held worldwide. The other 4 locations were San Francisco, London, Amsterdam, and Tokyo. Here is the schedule.
With over 500 attendees, The Manhattan Center was hosting a different kind of performance than usual. Google would be showcasing their envisioned development roadmap for their current Google Cloud Platform "Instruments".
Just like an orchestra, the components work together to create an infinite variety of results.
This will include Compute Engine, Container Engine, App Engine, Cloud Storage, Cloud Bigtable, Cloud Datastore, Cloud SQL, Load Balancing, Interconnect, Cloud DNS, BigQuery, DataFlow, Cloud Pub/Sub.
The great thing is that these are the tools Google itself uses, and they want to share them with developers.
The Event: The Cloud is a "Digital Disruption"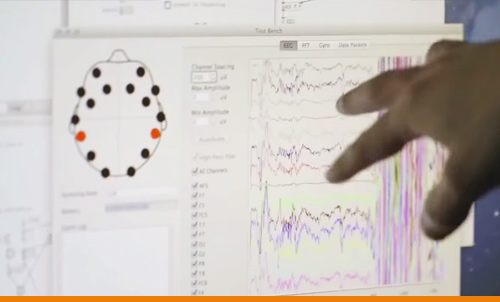 2 breakfast burritos, 2 coffees, an orange juice and apple cake later, it was time for Carl Schachter, VP of Cloud Platform for Google, to take to the stage for the Keynote speech "Building What's Next".
He is definitely focused on productivity and how Google Cloud can "fit into our trajectory." And, how developers can reimagine the user experience without being constrained by technology.
The "digital disruption" Cloud is causing is driving innovation, and Carl thinks it's "fantastic."
I agree, it's an amazing time to be a developer!
The first developers talk was mostly related to Firebase (www.firebase.com). It showed how easy it was for Firebase to use GCP for MMO's and simultaneous-multiuser working/playing platforms. In a few short minutes there was an "asteroid" type MMO deployed on GCP. It has the ability to use offline maps and it can pick up from the last online point in the event of a loss of Internet connection.
The next talk was about Kubernetes (which is the Greek word for Governor). This is Google's (and the worlds?) favorite orchestration tool. The idea of having "disposable" VMs (Virtual Machines) that run with only their necessary libraries was more than interesting. With disposable VMs, the data lives on a separate storage device. If the VM gets hacked, deleted or breaks down, you just fire up another clean instance of the VM with the data from the separate device. No need to actually fix anything.
The Wonders Of Google Cloud Computing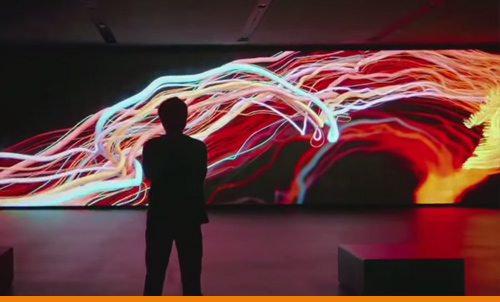 The giant screen at the event reminded us of how great a time it is to be a developer. It also reminded us that the everyone has to embrace technology to survive in this ever changing, fast-paced, I want it now world of business!
Just look at the super companies of today that are major Internet successes. None of these companies would be possible without crowdsourcing.
Take Uber. Uber is the biggest taxi service company in the world, but it does not own a single car. Facebook owns the most media in the world but it creates no media of its own. Air B&B owns no hotels. This is all thanks to Cloud Computing.
We are forced to advance with technology to stay relevant and secure. Unlike any other private or public Cloud platform, GCP's Instruments are the exact same tools used by Google's own developers. Their business products (like Gmail and Google Plus) are built with their tools and hosted on their own platform. I know if it works for them, it will work for me.
Cloud is here to stay, and I too think it's fantastic!
The Rest of the Day—and How I Got That Chromebook
In between breaks in the talks, I walked around the booths. I must have sniffed there was a good contest going on, because I was drawn to one particular booth.
I was right. There was a competition for whoever topped the rank in their GCP based mobile app, would win a free Chromebook!!
I quickly downloaded the app and got to work – it was time to win this Chromebook!
By 10:30AM player #1 had racked up 1100 points.
By 1PM I had figured out a bug in the game that allowed me to always win, even without playing the game. I was 1000+ points above player #2, but there was still another 3 hours to go.
At 3:15pm I gave the challenge a break, but had to pull out all the stops when I realized the player ranking #2 was only 500 points behind me. I racked 2000+ points in less than 15 minutes. It took most of the players 2 hours to get this many points.
By 3:45PM the top 2-4 players were at the booths wanting to meet player #1 (me), all of them with their own way of "cheating" the game.
I didn't release my bug, but I did get my Chromebook!
Photo credits: Google's keynote speech video